Leatherhelms was started because Doug Lais saw that there was an unfulfilled niche in the Renaissance community. Almost nobody was walking around the Faires wearing a helmet! He thought that Renfaire people needed helmets.
For a kiss it is better to choose the right moment: you look into each other's eyes for a long time and you think that this is an awkward pause. It is not! This is the moment how to be a good kisser gay for a kiss. Gently and softly touch your lips to hers, linger a little longer and pull away from her lips. After the kiss, you can whisper in her ear that you really like her - the girl will be very pleased. After the first kiss, you yourself will be surprised - what were you so afraid of? Most people have learned to kiss themselves, so the experience comes only with practice.
So, in 2004, Doug first experimented with making a helmet used an old felt hat from a thrift store, cut the brim off and shaped the crown in hot water. From the brim he cut out a Viking face guard, superglued everything together, used some wood stain for the color, and then hardened it all with epoxy. Upholstery tacks simulated the rivets.
Well, it faked everybody out. They all thought it was leather. So, Doug decided to try making a real one. A few months later he had his first real leather helmet. In January, 2018 I bought Leather Helms from Doug and have been making leather Renaissance Viking helmets ever since.
Come and meet me at the faires!
Keith Wells
Minnesota Vikings and Leatherhelms!
Minnesota Vikings lineman, Bryant McKinnie, poses on the cover of the Minneapolis Downtown Journal. He's wearing a Leatherhelms Viking helmet...made in XL to accommodate his 335-pound, 6' 8" frame.
My thanks to the many people who made this publicity shot happen...especially to "Costume the Cities" costume shop, who provided my contact information to the newspaper, over a year after I visited their shop.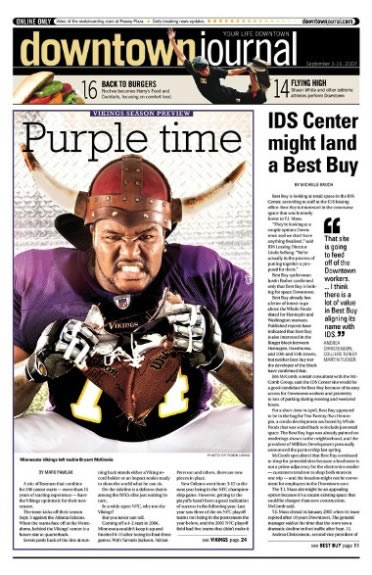 City of Lakes Loppet, Minneapolis, MN, 2010.
You Tube® video of a friend and me dressed as Birkebeiner
Vikings, leading 300 kids off on a cross country ski race.
City of Lakes Loppet, Minneapolis, MN, 2010.