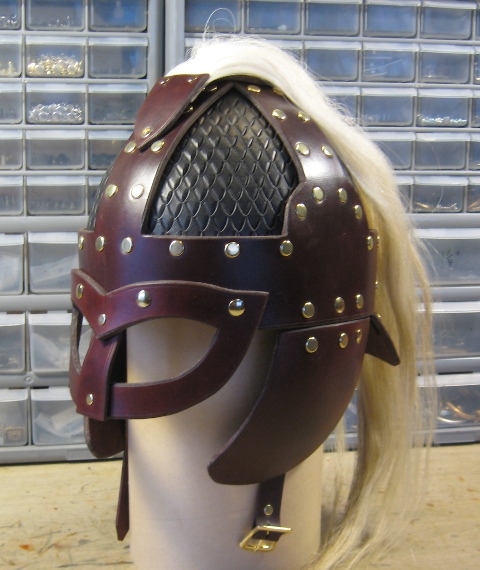 Leather Helmets
The shape of steel...the beauty of leather.
Leatherhelms helmets are riveted, four panel helmets, made of heavy saddle leather.  They are precisely cut and molded into curved shapes, then hardened, using the cuir bouilli method. They are then buffed with beeswax as a preservative, and given a final coat of acrylic to make them water resistant.
So…how does this website work?
Buy a ready-made helmet or you can design your own helmet.  You purchase the Basic Helmet, and then purchase the parts you want to add. Begin by simply  clicking on "Build Your Helmet" under Helmets. Ships within a couple of days.
If you have an interest in any of the following, this website is for you:
Dark Ages Armor, LARP Armor, Dagorhir Armor, Middle Ages Armor, Viking Armor, Leather Armor, Medieval Armor, Leather Helmets, Leather Viking Helmets, Belgarth Armor, Skyrim Helmets
Our joy is making medieval renaissance helmets all by hand just for you.
Keith Wells